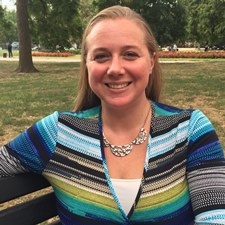 Samantha Batko joined the Metropolitan Housing and Community Policies Center at the Urban Institute in September 2017. She will be working on homelessness and housing policy, evaluations of rapid re-housing and supportive housing, and examining systems change.
Samantha spent 12 years at the National Alliance to End Homelessness (the Alliance), where she developed expertise in homelessness policy, technical assistance, and research. Most recently, Ms. Batko served as the Director of the Homelessness Research Institute at the Alliance. In this role, she monitored trends in homelessness, homeless assistance, and at-risk populations; identified and promoted promising local practices; and translated research to improve homelessness policy and practice. Samantha also served as the co-chair of the Alliance's Research Council and promotes a Research Agenda for Ending Homelessness developed in conjunction with the Council.
Prior to that position, Ms. Batko focused on crafting policy and identifying promising programs that end homelessness for unaccompanied youth and young parents as a member of the Alliance's policy team. She also served as the Alliance's lead staff person on issues affecting survivors of domestic violence. She has previous technical assistance experience helping state and local governments and nonprofits design and implement effective rapid re-housing programs, Housing First oriented homeless assistance systems, and coordinated entry and prioritization procedures.