Jill Khadduri and Meghan Henry
Data just released by HUD show that homelessness among veterans has declined by nearly 50 percent since 2009. The decline in veteran homelessness reflects reductions both in the number of veterans staying in shelters (48%) and in the number found in unsheltered locations (52%). The Point-in-Time counts conducted in January 2019 found 37,085 veterans experiencing homelessness or 18 of every 10,000 veterans in the United States.
Figure 1. Veterans Experiencing Homelessness by Sheltered Status, 2009-2019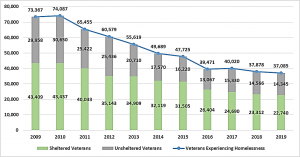 African-American and Native American Veterans are at Particularly High Risk of Experiencing Homelessness*
More than half of Veterans experiencing homelessness were white (58%). At the same time, veterans of color were considerably overrepresented among the homeless population compared to their share of all veterans. African Americans, for example, accounted for 33 percent of the homeless veteran population but only 12 percent of all U.S. veterans. American Indians accounted for less than one percent of all veterans but 3 percent of homeless veterans. All people who serve in the military are promised the same benefits after service, but this does not protect veterans of color from the poverty and discrimination that can make their access to stable housing and family supports fragile during the months and years after they have served their country.
Veterans experiencing homelessness were more likely to be found in suburban communities (27%) than all people (25%) and individuals (24%). While veteran homelessness in rural areas is frequently highlighted, the Point-in Time data showed a slightly smaller share of veterans experiencing homelessness were counted in rural areas in 2019 (17%) than all individuals or all people experiencing homelessness.
The Drop in Veteran Homelessness Reflects Recent Investments of Resources to Address the Problem
The halving of veteran homelessness in the last ten years reflects a targeted investment of resources for this population, and housing assistance in particular. Two relatively well-funded programs have focused on moving veterans out of the homeless system and into permanent housing.
Housing and Urban Development Veterans Affairs Supportive Housing (HUD-VASH), jointly administered by VA and HUD, pairs tenant-based rental assistance provided by HUD through local public housing agencies (PHAs) (following the Housing Choice Voucher model) with case management and clinical services provided by VA. Local VA medical centers screen veterans for program eligibility and then make referrals to the partnering PHA. This is increasingly being done in coordination with local Continuums of Care as part of community-wide coordinated entry systems. The program began with three rounds of allocation in 1992, 1993, and 1994 and a total of approximately 1,750 vouchers. Rigorous evaluation found that the program succeeded in stably housing veterans with substantial challenges, but no new HUD-VASH vouchers were funded until FY 2008.14 Since 2008, more than 85,000 HUD-VASH vouchers have been funded and allocated across the nation, with most helping veterans who had chronic patterns of homelessness.
Supportive Services for Veteran Families (SSVF) program is administered by the VA, and provides funding to community-based non-profits for rapid re-housing and homelessness prevention services for veterans. Since program inception in FY 2012 through FY 2015, the program assisted nearly 240,000 Veterans. Despite the program's name, most of the people helped are on their own, as are most veterans who experience homelessness. The SSVF program has grown fivefold since its start in 2012, and in FY 2015 more than $390 million was awarded to 407 grantees.
These programs have been critical to reducing the number of veterans experiencing homelessness. However, communities should examine the role these and other programs may play in also reducing the existing racial disparities in the homeless veteran population. The Department of Housing and Urban Development recently released a racial disparities tool that CoCs can use to examine whether racial and ethnic biases exist in their homeless service systems.
*Demographic and geographic information based on 2018 point-in-time data. These data will be updated once they are released by the Department of Housing and Urban Development.