Center Director Jill Khadduri and Center expert Marybeth Shinn release an important new book In the Midst of Plenty: Homelessness and What To Do About It. 
The book provides a comprehensive treatment of homelessness in the United States. In it, the authors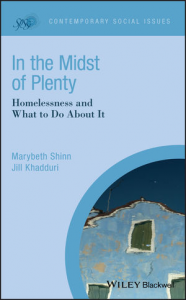 synthesize research evidence on the number and characteristics of people experiencing homelessness, the causes of the "modern" homelessness that began in the 1980s, and the approaches to ending and preventing homelessness that have been proven successful by rigorous studies.
This book comes at a critical time, as homelessness in the United States and solutions to homelessness are topics that gaining attention of presidential candidates as well as local, state, and national decision-makers. The authors emphasize a lack of affordable housing and persistent racial discrimination as causes and also review the individual factors that heighten vulnerability for some people. The final chapter discusses how to overcome the structural causes of homelessness through strengthening the safety net on both the housing and income sides of housing affordability.